Acne and Scar Results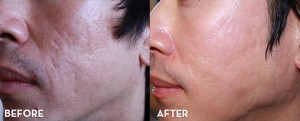 At La Fontaine Aesthetics Dr. Oleszek uses the MiXto SX cutting-edge laser skin treatment that decreases sun damage, wrinkles, crepey skin, acne scars and tightens the skin, all with a more acceptable amount of downtime.
(see above: Acne scar treatment results; individual results may vary)
Dr. Oleszek is one of the first in the country to offer this advanced micro-fractional CO2 laser treatment. A single treatment can offer more improvement than older technology, such as, 6 treatments of the Fraxel or Affirm and at less overall cost and downtime.
Common areas treated by the MiXto SX laser include full face, around the eyes to tighten excess skin, around the mouth to smooth wrinkles, neck, chest and hands. Additionally, The MiXto SX is one of the most effective treatment for acne scars and scars on other parts of the body, including stretch marks.
This treatment can safely be performed in a medical suite at La Fontaine Aesthetics by Dr. Ken Oleszek, with most people electing only for oral sedation and nerve blocks. Post procedure skin care will be required and will be reviewed at time of initial consultation and before leaving after the treatment. Patients usually feel fine after the first evening, yet may want to avoid work until their skin fully heals, which can be 3-8 days, depending on the intensity of the treatment selected.