Unsightly Double Chin? Kybella Injectable is the Answer.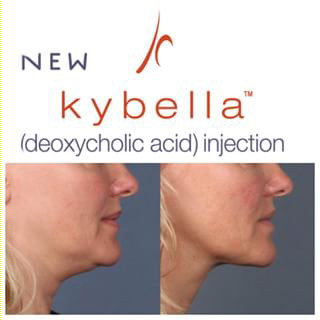 Have you ever looked in the mirror and thought "If only I could get rid of this double chin?" Welcome to your 40's! According to the American Society for Dermatologic Surgery, 7 out of 10 people women and men alike are frustrated with sub mental fullness otherwise known as the double chin.
Fortunately, double-chin concerns are a thing of the past and much easier to fix than you might imagine. Thanks to Kybella.
Kybella is the first FDA approved injectable solution to permanently eliminate under chin fat. More than 20 case studies have shown lasting results and 70% of patients have noted physical and emotional improvement.
Kybella is a non-surgical treatment and has minimal downtime. It is much more affordable than liposuction. Treatment time is about ten minutes and peak results occur within 3 months. Most patients need 1-3 treatments to achieve desired results.
Since this injecable destroys the cell membranes, it is very important that a board certified physician with experience do the procedure. Kybella needs to be properly injected into only the fat cells for it to be safe and effective.
Kybella could be the double-chin solution you've been waiting for. Why not set up a free consultation to see if Kybella is right for you. We can be reached Mon-Fri between 10-5 at
303-355-4772, or use our contact form. Or for more information visit Kybella's official website.