Back Fat Be Gone CoolSculpting is Here
We love getting new technology at La Fontaine and are excited about trying the new devices on staff. We believe it is important for us to experience what our patients will experience.
When we made the decision to bring in Coolsculpting® , I was curious to learn the science behind it.
In 1970 researchers discovered children that consumed a lot of popsicles had lost volume in their cheeks. They found that fat cells are hypersensitive to cold, more so than skin, nerve and muscle. This is how CoolSculpting® was born. CoolSculpting® uses a technology called Cryolipolisis, which freezes fat cells and eventually causes fat cell death.
CoolSculpting® is indicated to treat the flanks, abdomen, inner and outer thigh. Recently CoolSculpting® got its FDA approval to treat the double chin. Most people will have 25% permanent fat reduction after their first treatment. For best results two treatments are recommended.
Once I completed my CoolSculpting® certification, it was my turn to get a consultation, have before photos taken and receive the treatment.
Here are 5 things I learned during my consultation I found important:
There will be skin sensitivity in the beginning and end of the treatment
Bruising is possible after the treatment
Swelling can occur after the treatment
I may need more than one treatment
Peak results are at 3 months after the treatment
I chose to have my back fat treated because it is the area that bothers me most. Cool gelpads were applied on the treatment areas, the applicators were placed and the treatment started. There is a vacuum suction, followed by cooling. Both are an interesting sensation, but within a few minutes I didn't feel anything.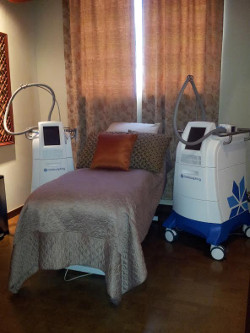 An hour later the applicators were removed, a light massage on the treatment areas was given and the treatment was complete. The whole process was easy and I was happy I could work out the next day because it is non-invasive. The rest of the week I had some bruising and felt a little sore, but overall I felt pretty well. I'd go through it again knowing how easy the process is!
Within 3 months I will see my results and I am excited to share my progress. Stay tuned!
Call 303-355-4772 to schedule a free consult or visit our CoolSculpting® services page for more details, videos and before and after photos.