Stay Looking Young with Botox!
Sandra Bullock looks the same in her 40's as she did in her 20's! How??????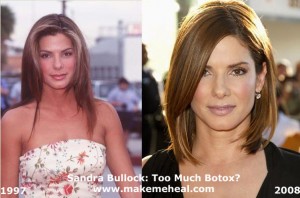 43 year old actress Sandra Bullock is suspected of using injectable fillers like botox, restylane, and juvederm. No furrows (horizontal creases) appear on Bullock's forehead, no smile lines emanate from the corners of the mouth, no lipstick lines or crow's feet (around the corner of the eyes) are present causing speculation that Bullock has used Botox. Dr. Ken Oleszek from La Fontaine Aesthetics has said, "It is possible Sandra Bullock has had Botox. Her forehead and frown lines are smooth; her medial eyebrow is low and this is possibly due to forehead Botox."
Whether it's fillers or botox – it's not just for the stars!
Watch Dr. Oleszek on American Woman Televisio, www.myamericanwoman.com, in June to find out what specials he's running so that you too can look 10 years younger!