Our Suneva Summit Experience; The Facts on Bellafill and Regenica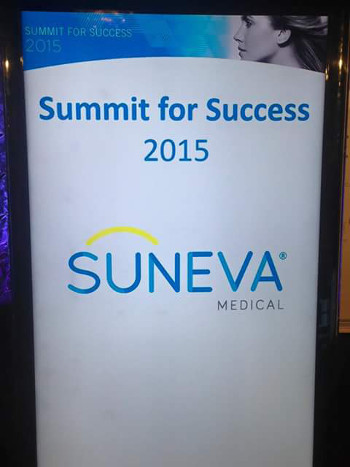 We're just in from Chicago and can't wait to share what we learned at the Suneva Summit in Chicago. Bellafill® (formally know as Artefill®) began its success in 2006 and continues to gain patient satisfaction.
Bellafill® is the only collagen filler with microspheres providing immediate correction and lasting improvement. Bellafill® combines 80% purified bovine collagen with 20% PMMA. It immediately adds volume and a lift to aging skin. Over time the bovine collagen is replaced by the PMMA, which creates collagen producing microspheres. The result is a natural and youthful look that can last up to 5 years.
Bellafill® is most popular for adding volume into the face, but it recently got its FDA approval for treating moderate to severe acne scars. 90% of patients reported continued satisfaction one year after their procedure.
Not only is Bellafill® versatile, it's proven safe, has minimal discomfort and downtime. Most patients need 1-2 treatments, 2-3 months apart.
Suneva is known for producing advanced filler such as Bellafill®, they've also created Regenica®. Regenica® is the latest growth factor breakthrough to hit the market. Growth factors are proteins that help to boost skin healing and reverse the signs of aging.
Regenica® is human growth factor and was created by one of the most well know scientists in regenerative medicine. It was discovered by mimicking the embryonic environment. The findings revealed a younger set of growth factors that exist when skin is at its most regenerative stage.
Clinical studies have shown Regenica® improves the appearance if fine lines and wrinkles, reduces the appearance of pores and evens out skin tone.
We have found that Regenica® works especially well during and after microneedling and microneedling complements Bellafill® well because it improves acne scars, stimulates collagen and smoothes out fine lines. Both prevent and correct aging.
If you are ready for a lasting lift or you want to stop living with troublesome acne scars Bellafill® is the best choice. Call us at 303-355-4772 for a free consultation to see is Bellafill® is right for you.
—
Lucia Hazen has served the medical aesthetics industry for eight years. She currently assists Dr. Oleszek with medical procedures and enjoys caring for patients. She gets great satisfaction seeing patients lives transform by regaining their confidence. Lucia continues to take part in advanced aesthetic courses and seminars to stay current in medical procedures and technologies.
—
Adrian Hunt is the lead aesthetician at La Fontaine Aesthetics. She combines her prior aesthetic teaching with nearly 14 years of industry experience to ensure patients get the best treatment and product recommendation. Adrian is passionate about creating custom treatment plans for her patients.